THE WORK OF FRANÇOISE NIELLY
It is less than easy today to discuss figurative painting "as such." One inevitably encounters the question of why, in this age of "big media" the artist has chosen to fall back on methods of representation deemed by some to be obsolete. "These media, we learn, are reality," writes Robert Hughes, "and all culture had better get on board." The traditional method painter is forced to choose between embracing the gadgetry of our times (a la James Rosenquist) or stubbornly refuting it by way of exclusion (take Alice Neel). Each approach carries with it its share of dogma, and what we are left with is a battle for representational supremacy—for the picture of our times, and, hence, for "reality"—with the former post-technological approach usually trumping the latter. But I would attest there is a third category for painters who, though not unaware of this debate, approach their own art making with a certain indifference toward such oppositions as modern vs. post-modern; who view the technological age as neither the "philistine counsel of despair" Hughes refers to, nor the only viable realm from which to draw artistic source material.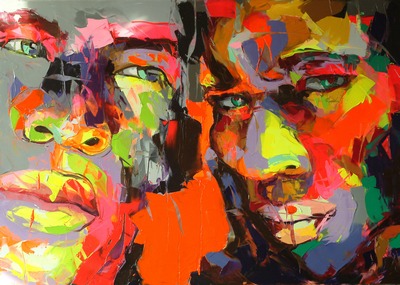 Françoise Nielly is one such artist. Though she approaches her subject with the raw psychological intensity of Lucian Freud (the artist Hughes is defending when he speaks of the above), her paintings unabashedly incorporate a design sensibility which could have come from no other place but contemporary media. Working primarily with the palette knife, Nielly is not afraid to let the rawness of her methods dictate composition. Whimsical color choices and an unapologetic sprightliness in her application of paint speaks to both a reverence for her subject and for the process of painting itself. Generally working in large format, in close to medium range to her figures, Nielly's paintings demonstrate focused dexterity and impulse in equal measures. Her abstract works are like Robert Motherwell filtered through a mauve and violet lens. Her figurative paintings reveal a decidedly feminine appreciation for the male body, and a keen apprehension of the supercool aloofness surrounding contemporary fashionistas. Her intersecting slabs of vibrant pigments sometimes adhere to and sometimes shatter the Freud/Ingres maxim that the most beautiful thing in art "is a color adjacent to another which most closely resembles it." The result is canvasses which one moment invoke the devil-may-care expressivity of Chaim Soutine, and the next moment seem as though they might be well suited for the advertisement pages of Vogue magazine. A startling conflux of interwoven sensibilities to say the least. But, then, that is part of Nielly's allure.
Exhibiting in St. Tropez, Paris, Montreal and Vancouver, Nielly's approach carries with it the cross currents of a cosmopolitan lifestyle. Her subjects themselves—male and female—are as ethnically colorful as her palette (one cannot but suspect her zeal for radiant ultramarine and sumptuous alizarin was fostered by her Riviera upbringing). As if to further emphasize this savoir-faire internationalism, her individual paintings—which are otherwise catalogued in the formal tradition of "Untitled" serials—each carry with them the name of the country (France, Canada, Dubai, Germany) in which they were created. Her most recent work has evolved beyond the studio setting, incorporating loose fragments of contemporary visual culture and imaginatively synthesizing her fine and decorative arts training.
As she has matured as an artist, Nielly has become more dazzlingly experimental in her approach while further refining her technical mastery of the oil/knife medium. Two works from this past year (Untitled 363 and 321) see her delving into glittering cubistic and anthropomorphized expressions of the human form. Each is carried off with the same unforced conflation of traditional and current visual codes that elevates her beyond the squabbles over media and representation that have defined our era. By apologizing for neither her less-than-faddy choice in subject nor for the influence her culture has borne on her artistic sensibilities, she arrives at a point much closer to the "honest" ideal Alice Neel alludes to when she says, "I told the truth as I perceived it, and, considering the way one is bombarded by reality, did the best and most honest art of which I was capable." In the case of Françoise Nielly, it is the work that does the talking.