________________________________________________
Ars Interpres Poery Festival
October 4 - 6, 2007
The third Ars Interpres poetry festival will take place in Stockholm
from 4-6 October 2007. The festival brings together many poets
from Sweden, Singapore and other countries for a series of literary
events at several venues around the city.
The poets, who will read from their work, give talks and launch new
issue of Ars Interpres journal, include Toh Hsien Min, Tim Liardet
Heng Siok Tian, Yeow Kai Chai, Yong Shu Hoong, Petter Lindgren,
Lasse Söderberg, Ulrikka S. Gernes, Aris Fioretos, and Mario Susko.

Les Murray: Poetry Reading in Stockholm
Time: May 20, 2007, 19.15
Place: Stora salen, S:ta Eugenia Katolska Församling,
Kungsträdgårdsgatan 12.
Les Murray, an internationally acclaimed Australian poet, will read
from his new book, "The Biplane Houses," just released by Carcanet.
Les Murray is one of the greatest contemporary poets writing in English.
His work has been published in ten languages.
Les Murray has won many literary awards, including the Grace Leven
Prize (1980 and 1990), the Petrarch Prize (1995), and the prestigious
TS Eliot Award (1996). In 1999 he was awarded the Queens Gold
Medal for Poetry on the recommendation of Ted Hughes

Ars Interpres Poery Festival
October 5 - 9, 2006
2006 Reading Schedule
Thursday, October 5:
6:00 pm
Giannina Braschi and Tess O'Dwyer give a talk and reading at the Spanish department of Stockholm University
7:00 pm
Ewa Lipska launches her bilingual book of poetry, The Holy Order of Tourists, at the Polish Institute.
Book launch hosted by Ryszard Reisner
Friday, October 6:
6:30 - 9.30 pm
/MAIN READING/ Most of participants
in the festival read at the Kulturhuset.
Fiona Sampson, John Kinsella, Giannina Braschi, Tess O'Dwyer,
Per Wästberg, Augustus Young, Ewa Lipska, Aleksandr Kushner,
Elena Ushakova, Alan Shaw, Gunnar Harding, Tomas Venclova,
Leonard Schwartz, Darius Pacak, Ryszard Reisner, Ilya Bernstein,
Håkan Sandell, Hildred Crill
Reading hosted by Hildred Crill
Saturday, October 7:
1:00 pm
Reading aboard the ship 'Constantia'.
Huvudsta strand, Solna
Daniel Weissbort , Fiona Sampson, Giannina Braschi, Tess O'Dwyer,
Tomas Venclova, Håkan Sandell, Ilya Bernstein, Hildred Crill
2.30 pm
Giannina Braschi, Gunnar Harding, Fiona Sampson,
Leonard Schwartz, and Håkan Sandell read
at the Svenskt Tenn
4.00 pm
Tomas Venclova, Aleksandr Kushner, Regina Derieva,
Ilya Bernstein, and Elena Ushakova read at S:ta Eugenia
(Kungsträdgårdsgatan 12)
5:00 pm
Reading aboard the ship 'Constantia'.
The Evert Taube's terrace near the Town Hall
Augustus Young, Ewa Lipska, Alan Shaw,
Juris Kronbergs, Ryszard Reisner, Jim Potts,
Darius Pacak, Karl-Erik Tallmo
Sunday, October 8:
12:30 pm
Ewa Lipska, Dariusz Pacak, John Kinsella,
Jim Potts, and Daniel Weissbort launch their bilingual
books of poetry at the Medelhavsmuseet
(Mediterranean Museum)
Monday, October 9:
11:00 am John Kinsella give a talk and reading
at the English Department of Stockholm
University
We are grateful to the Swedish Academy for their past
and continued support of our events.

Intersecting Senses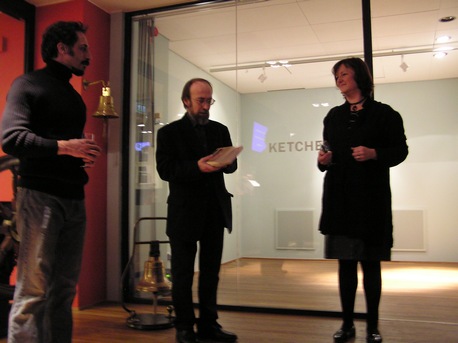 The vernissage of Arcady Kotler's instalation Intersecting Senses
took place in the head office of the Ports of Stockholm
on Thursday, January 19th 2006
www.stoports.com/

At the Point of Crossing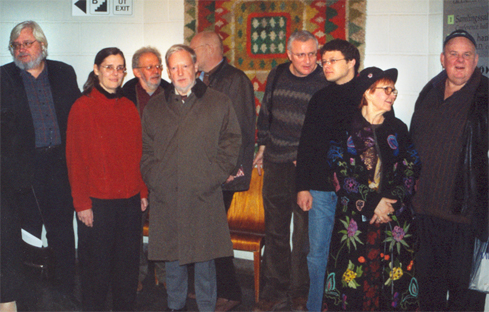 (left to right) Juris Kronbergs, Hildred Crill, Daniel Weissbort,
Johann Hjalmarsson, Bengt Jangfeldt, Andrey Gritsman, Gleb Shulpyakov,
Valentina Polukhina, Les Murray at the poetry reading
"Poetiska Skärningspunkter" (At the Point of Crossing)
in the Nordic Museum (Stockholm, October 2004).
Photographer: Petra Isaksson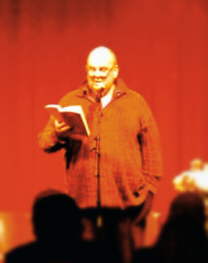 Les Murray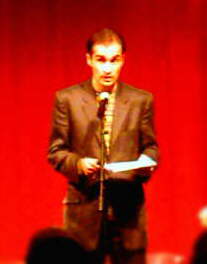 Aris Fioretos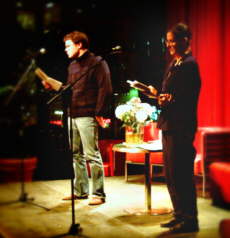 Gleb Shulpyakov and Hildred Crill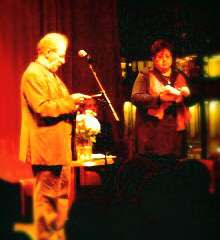 Daniel Weissbort and Regina Derieva