The English artist Dennis Creffield (b 1931) is probably best known for his
drawings and paintings of buildings and cities. He has at various times
been commissioned to draw all the Medieval Cathedrals of England (26) –
the major Cathedrals of Northern France – the Castles of Wales – The Palace
of Westminster in London – the great English Country Houses of Ickworth
and Petworth – the Desolation of Orford Ness and the Cityscapes of London,
Manhattan, Hong Kong and Jerusalem.
The following are selections from his reflections on the various problems
of drawing at some of these places.
"The Friend of Cathedrals and of Castles…"
It is not possible to get the complete expression... of the apse of
a Gothic cathedral, into a picture, as the elevation cannot
be drawn as a vertical plane in front of the eye, the head
needing to be thrown back, in order to measure their
height, or stooped, to penetrate their depth.
Ruskin "Modern Painters IV"

This is a clear description of the inability of the academic approach
to cope with the complexity of human perception. (The late –
Renaissance academy had – for the purpose of drawing and
painting – reduced visual perception to a static-one-eyed viewpoint:
geometric perspective.)
The medieval artist's idea of the perceptual was as of a faculty of
imagina¬tive understanding. And so in his art space, time and
distance are not governed by measurement but by the relative
significance of the constituent parts.
I belong to the progeny of Cezanne – that self-described – "primitive
of a new art". He inaugurated an era in which the very complexity
and uniqueness of perception is itself the subject of the painting.
I am not interested in creating an illusion of reality – nor in making a
symbol of it. But in trying to find a substantial form for its substantiality
– an image of actual experience – the wound unbound.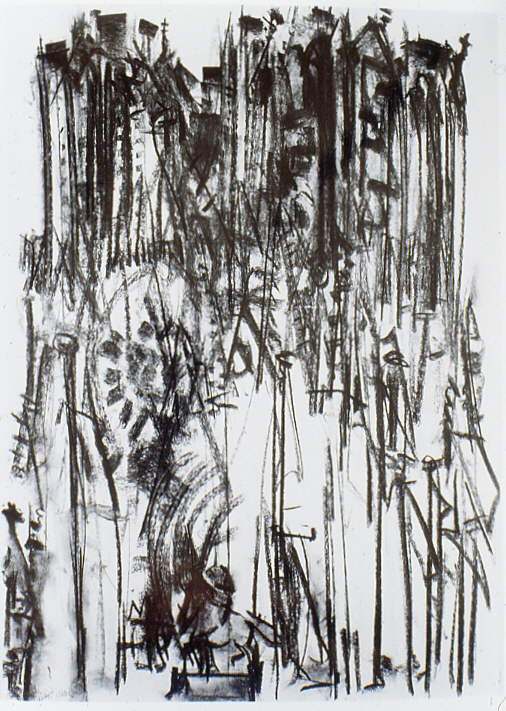 ____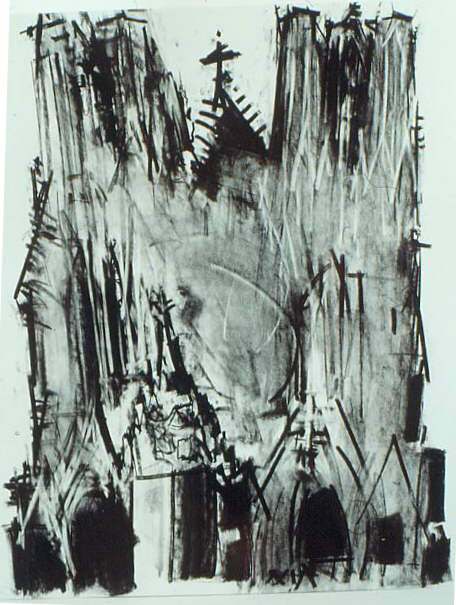 Yes, Ruskin — it is possible. To look up and to look down – and to
unite these separate moments of time and physical movement – by
means of the continuous imagination of memory.
I do not look at the cathedral as if through a letterbox – neither do I
draw it so.
*
To describe my work I would like to reclaim the word
"impressionist". It's a waste that it should only be used to describe
the work of certain 19th century painters – who didn't choose it
themselves anyway.
I use it in the way we do when we say – "that is impressive" or
"I am impressed".
Here an "impression" is not a fleeting optical moment but a total
response. A perception in which eye, mind, body and imagination
are all one at the same time together.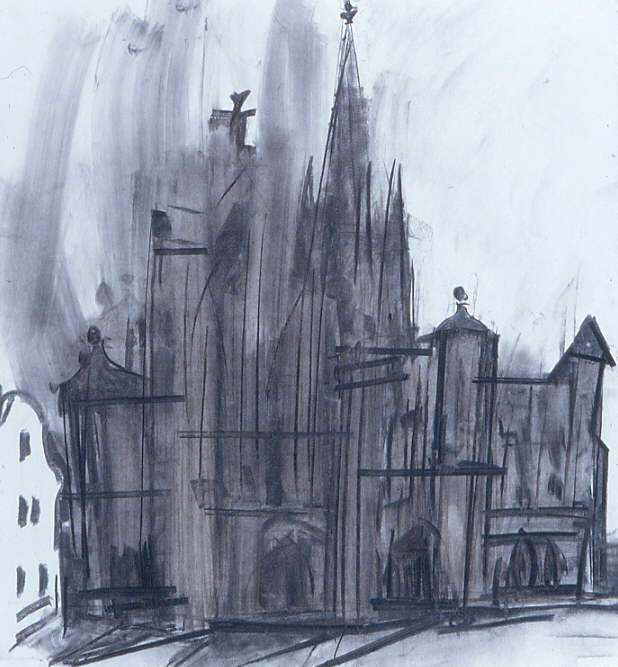 Understood in this way I am an "impressionist".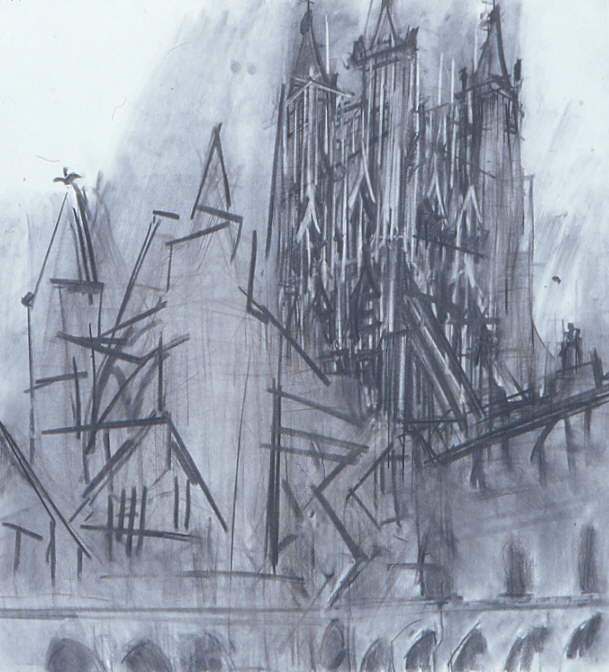 *

"Remember the impression one gets from good architecture, that it
expresses a thought. It makes one want to respond with a gesture."

"Architecture is a gesture."

These two thoughts of Wittgenstein's state with clarity and
distinction my approach to drawing the cathedrals.

By gesture (I mean) the significant stance that characterizes and
identifies people and things. Van Gogh remarks that we can identity
an acquaintance from a great distance because we recognize their
stance. We recognize familiar trees and animals in the same way.
(This is not simply shape – the gesture is an animate principle.)

Each cathedral is a gesture – I respond with my gesture and the
drawing is a mutual embrace. (And the marriage of two minds.)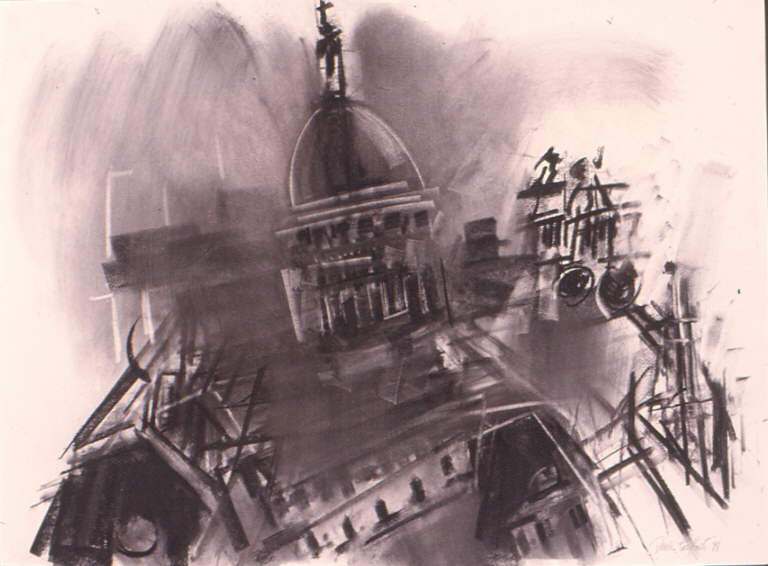 *

I find drawing extremely difficult. I don't do it because I enjoy it.
But because it's the only way that I can understand things.

This writing has been an agony – words slide about and don't have
any density – no reality in themselves – only in what they mean.
Only drawing is real - and I only feel real when I draw.

*

"Architecture immortalizes and glorifies something. Hence there can
be no architecture where there is nothing to glorify."

These drawings are my glory to their glory, which came from the
glory of God.

London, 1987
Having drawn all the English Medieval Cathedrals for the South
Bank Board 1987-88 and most of the major Northern French
Cathedrals, thanks to David Astor in 1990, I thought I was finished
with medieval architecture as a direct inspiration and subject for
work. However, the invitation by the Globe Gallery in Hay-on-Wye
to draw the Welsh and English Marcher Castles re-aroused my
interest, because most of them were probably built by the same
workers and masons that constructed the cathedrals.
What has been called the second Stone Age was begun by the
Normans. (According to Jean Gimpel from the eleventh to the
thirteenth centuries more building stone was quarried in France than
had been mined throughout the whole history of Ancient Egypt!).
Castles must be built quickly, strongly and soundly; this accelerated
the technological knowledge that extended from quarrying,
recognition of good quality stone, transport and the swift and
masterly working of the material. So, ironically, the expertise
needed to build the cathedrals was what we would now call a
'spin-off' from Warfare.
I had great difficulty in drawing the castles. I prefer to draw
functional buildings and whereas the cathedrals are still used for
their original use and are generally complete structurally, the castles
(except where they have been converted to domestic use), are
redundant in function and ruinous as structures We don't even know
very much of the detail of how they were used, except that they
were centers of power and commanding physical presences in a
then lightly populated countryside. They are almost as mysterious
to us as Ozymandias's "...vast and trunkless legs...". In consequence
they have become places of our imagination – an imagination –
largely dominated by a nineteenth century vision of – Fantasy,
Romance, Symbolism and the Picturesque.
I have followed this fantastical line but been not only inspired by
Tennyson and Turner and Maeterlinck but also medieval paintings,
my own remembered toy castles and also those innumerable
sand-built-bucketed structures, which took half a day to build – and
if you were lucky, slowly eroded (the moat filling up) by the
incoming tide – if you didn't have to go home before! But more often
by horrible boys who leapt over them and kicked them down.
A small sad echo of what did eventually happen to these great
buildings.
Hay-on-Wye, May 2002
Painting from "A Midsummer Night's Dream"
and "Mozart" series by Dennis Creffield