________________________________________________
Ars Interpres promotes literary excellence by connecting
poets from Scandinavia and around the World.
________________________________________________
We are very happy to announce a new collaboration with
MERIDIAN - POLTAVA
International Literature Festival (Ukraine).
8-10 June 2018
Over 1100 years of its existence Poltava has absorbed the spirit and
philosophy of heroic events of all nationalities which took part in them and
created a history of the city. In Scandinavian literature there are numerous
references of water trade route "from the Varangians to the Greeks", which
passed through Poltava and connected Northern Rus' with Southern Rus'
and the Baltic with Byzantium.
Union between Ivan Mazepa and Karl XII against the army of Peter the First
during the Northern War and is now a link between Ukraine and Scandinavia -
Sweden, Denmark, Norway, Finland and Germany. The word "Poltava" has
long been a short-code word, password, which means "Battlefield" and calls
out various emotions and desires.
International Poetry Festival MERIDIAN POLTAVA is a bridge between eras,
which allows to satisfy the desire to come back to Poltava and meet on the
Field, but on another, on poetic one.
MERIDIAN POLTAVA is an annual festival that takes place in June since 2018.
PRINCIPLES OF THE FESTIVAL:
1. The festival presents contemporary Swedish and Ukrainian literature,
and poetry of the invited participating countries.
2. Participating countries of MERIDIAN POLTAVA: Sweden, Norway,
Germany and Ukraine. Participants of the festival, 40 people - interesting and
famous poets, writers, musicians, kulturtragers of these countries.
3. During the event the texts of foreign authors will sound in Ukrainian,
and texts of Ukrainian ones - in Swedish. This will attract Ukrainian and
Western European lovers of poetry, foreign tourists, journalists and ensure
dialogue between nations and cultures.
4. The festival program consists of two parts: a two-day cultural tour with
stops in places that represent Poltava for poetry readings and performances.
10-12 city locations are involved. The second part involves literature and
discussion events at the State Historical and Cultural Heritage Site
"Poltava Battlefield" during one day.
5. The festival is promoted by the invitation of European authoritative
journalists, publications in media of focus countries, participation of festival
stand in cult literary and book events in Sweden and focus countries.
Återkomst - Return
Kulturhuset, Stockholm. Saturday November 7, 2015. 14.00 - 15.30
S:ta Eugenia Stockholm. Sunday November 8, 2015. 13.30 - 15.00
EUROPEAN CULTURE PROGRAMME (2007-2013)
PROJECT-- TRIPTYCH: POETRY -
IDENTITY - COEXISTENCE
FOURTH EVENT: STOCKHOLM
A Day of Poetry - October 2010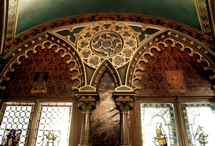 Saturday October 30, 2010
11.00 - 13.30
Red Room (STRINDBERGRUMMET), Berns Salonger
Among the poets, who will read from their work are
Per Wästberg, Gunnar Harding, Elisabeth Hjorth,
Malte Persson, Ida Linde, Petter Lindgren, Regina Derieva,
and Dipak Mazumdar.
Similar events simultaneously will take place in cultural cafés
of Paris, Athens and Nicosia, and together with one
in Stockholm will be connected by satellite
operator Hellas Sat.
Helas Sat website:
http://www.hellas-sat.net/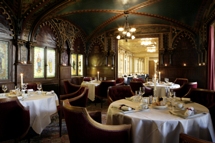 Crossing Borders, Connecting Cultures
International Poetry Festival
Sunday May 16, 2010
14.00 – 17.00
The Mediterranean Museum
Stockholm
The event has streamed live from the Mediterranean
Museum and may still be possible to watch at:
http://www.kvickstream.se/asx/mm01.asx
The project Triptych: Poetry – identity – Coexistence is partly funded by
the European Culture Programme 2007 – 2013. It is a series of events with
poetry as its core discipline supported by other forms of art such as music,
dance, painting, acting, etc, organised in 2009 – 2010. The events will take /
have taken place in Nicosia, Paris, Stockholm, and Athens. The leaders of the
project are Ideogramma and Atlantis Productions from Cyprus and the
co-organisers, Ars Interpres (Sweden) and Biennale International de Poètes
en Val-de-Marne (France).
Among those participating in our festival this time are:
Poets from Cyprus:
Giorgos Christodoulides, Nasa Patapiou, Charalambos Papaonisiforou,
Zelia Gregoriou, Mona Savvidou - Theodoulou, Lily Michaelides,
Jenan Selcuk, Stephanos Stephanides, Nora Nadjarian, Panos Ioannides.
Composer and musician Costas Cacoyiannis.
The Ars Interpres Authors:
Tomas Tranströmer, Anni Sumari, Marie Lundquist,
Alexei Purin, Håkan Sandell, Juris Kronbergs, Peter Curman,
Paddy Bushe, Petter Lindgren, and Ulrikka Gernes.
Pianist Lucia Negro
Sunday May 16, 2010
14.00 – 17.00
Mediterranean Museum
(Medelhavsmuseet)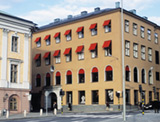 The Ars Interpres Poetry Festival brings poets from around
the world to Stockholm, Sweden for a program of public literary
readings and talks that take place over the course of several days in
autumn. The events celebrate the publication of Ars Interpres, the
international journal of poetry in English translation and English
language poetry, as well the launching of new books in the bilingual,
trilingual and English language series of Ars Interpres Publications.
Audiences have the opportunity to hear poems read in the poet's
own voice.
Among the internationally acclaimed poets who have participated
in past Ars Interpres festivals are Les Murray, Gunnar Harding,
Aleksandr Kushner, Ewa Lipska, Tomas Venclova,
Daniel Weissbort and Per Wästberg. The festival, sponsored by the
Swedish Academy, the Swedish Institute, Ports of Stockholm,
Kulturrådet, Polska Institutet among other organizations and
companies, was first held in 2004.
According to editor Alexander Deriev, the principal mission of the
magazine and poetry festival is to "offer the best of poetry and
translation in a very special, high-quality format to its immense
audience." Live readings by the poets themselves, Deriev continues,
"remain something special. The spoken word allows us to see
the poet's world from within, and to experience the poet's
own sense of his or her work."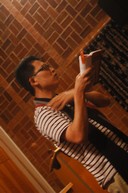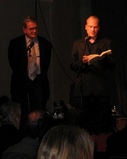 See great collection of photos from
the festival by Gosia Stepien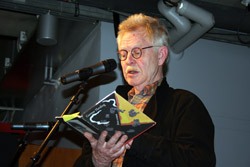 Also at Adobe Web Photo Gallery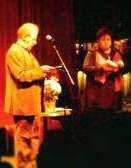 Special Thanks to Our Sponsors!